My Shelf
On Miranda, users have the ability to add Miranda records and their digital media to a personal collection titled "My Shelf," located on the upper right hand of the interface. Users must make a persistent Miranda account in order to create a Shelf.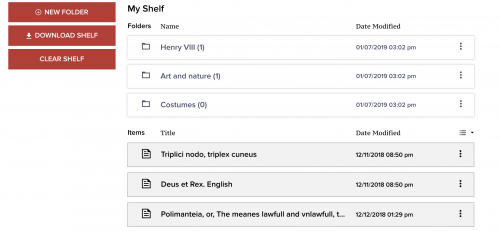 My Shelf items appear in a list on the page. Users can create folders and name the folders, as seen on the left. Titles of folders can be renamed at will. Users can lightly annotate both individual items and folder descriptions with a small amount of unformatted text.
Users can also share a folder within the Shelf publicly, if they select 'Share Folder'. A link is then generated which can be shared as the user chooses. If the user decides to un-share a folder, this can be done with the 'Unshare Folder' button.
We are interested in exploring more ways that My Shelf can be useful to all of our audiences, both as it currently stands and as it can be improved through the last phase of the project.